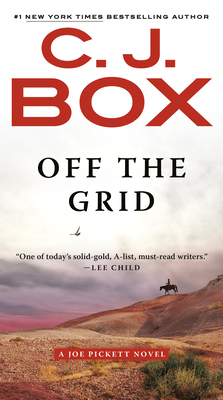 Off the Grid (A Joe Pickett Novel #16)
Publication Date:
March 21st, 2017
Publisher:
G.P. Putnam's Sons
Usually Ships in 1 to 5 Days
Description
Don't miss the JOE PICKETT series—now streaming on Paramount+
The Red Desert of Wyoming is a beautiful and punishing place for anybody, even for game warden Joe Pickett and his friend Nate Romanowski in this #1 New York Times bestselling thriller...

Nate is off the grid, recuperating from wounds and trying to deal with past crimes, when he is suddenly surrounded by a small team of elite professional special operators. They're not there to threaten him, but to make a deal. They need help destroying a domestic terror cell in Wyoming's Red Desert, and in return they'll make Nate's criminal record disappear.
But they are not what they seem, as Nate's friend Joe Pickett discovers. They have a much different plan in mind, and it just might be something that takes them all down—including Nate and Joe.
Praise for Off the Grid (A Joe Pickett Novel #16)
Praise for Off the Grid

"With this exceptional entry, Box solidifies his place at the upper end of the crime fiction pantheon."—Publishers Weekly (starred, boxed review)
"Picking up a new C. J. Box thriller is like spending quality time with family you love and have missed...It's a rare thriller series that has characters grow and change. An exciting reading experience for both loyal fans as well as newcomers."—Associated Press
"Filled with high suspense, formidable characters, and an action-packed ending more vivid than most movies. Off the Grid never falters as Box again delivers an exceptional thriller."—South Florida Sun-Sentinel
"You can't help turning the pages and holding your breath until you find out where this scary, all-too-plausible caravan is heading."—Kirkus Reviews

"A terrorist thriller with a uniquely western flair...This is a breakneck story that Pickett fans will want to read in one sitting."—Booklist

More Praise for the C. J. Box and the Joe Pickett novels
 
"One of today's solid-gold, A-list, must-read writers."—Lee Child
 
"Box is a master."—The Denver Post
"Box knows what readers expect and delivers it with a flourish."—Cleveland Plain Dealer
 
"Wyoming game warden Joe Pickett strides in big boots over the ruggedly gorgeous landscape of C.J. Box's outdoor mysteries."—The New York Times Book Review
 
"Riveting...[A] skillfully crafted page-turner."—People
 
"Will keep you on the edge of your seat."—The Philadelphia Enquirer