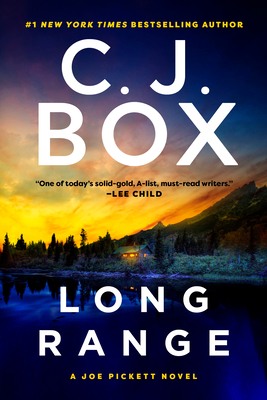 Long Range (A Joe Pickett Novel #20)
Publication Date:
August 4th, 2020
Publisher:
G.P. Putnam's Sons
Usually Ships in 1 to 5 Days
Description
Don't miss the JOE PICKETT series—now streaming on Paramount+
Wyoming game warden Joe Pickett must investigate an attempted murder—a crime committed from a confoundingly long distance—in this riveting novel from #1 New York Times bestselling author C.J. Box.
When Joe Pickett is asked to join the rescue efforts for the victim of a startling grizzly attack, he reluctantly leaves his district behind. One survivor of the grizzly's rampage tells a bizarre story, but just as Joe begins to suspect the attack is not what it seems, he is brought home by an emergency on his own turf. Someone has targeted a prominent local judge, shooting at him from a seemingly impossible distance. While the judge was not hit, his wife is severely wounded, and it is up to Joe to find answers—and the shooter.
The search for the would-be assassin becomes personal when Nate Romanowski and his young family are targeted by the mysterious shooter. Beset by threats both man-made and natural, the two men must go to great lengths to keep their loved ones safe.
"Impressive precision and heart-gripping suspense....Good characters, an extra good story, and great scenes of life and death in the wilderness."—New York Times Book Review
Praise for Long Range (A Joe Pickett Novel #20)
"[A] fast-paced, tightly written tale…The main plot, along with several subplots, is filled with so many twists and red herrings that Box keeps readers guessing almost to the end."--Associated Press
"Box has established a terrific cast of Western characters… When it comes to western contemporary thrillers with intriguing characters, no one does it better than Box."--Columbus Dispatch
"Long Range (with its surprise ending) shows Box has lost none of his punch as both he and Joe Pickett grow older."--Denver Post
"Clever plotting keeps this conspiracy yarn moving briskly, and the scenes depicting Nate's abuse while in prison are harrowing. This is another top-flight crime yarn illustrating why Box's readers are never happier than when Joe and Nate have reason to "get western."--Publishers Weekly (starred review) 
"[An] incredibly good read, a fast-paced, riveting mystery thriller with so many twists and turns and surprises you never saw coming that it will have you on the edge of your seat all the way to the end."--Washington Times
"Box has secured his reputation as an author who can take this increasingly popular genre—the modern western—and make it do whatever he wants...with a clear, easy style that plays nicely against the pulse-pounding tension. Box remains the gold standard among writers of modern western-mystery blends."--Booklist
"Fans of this outstanding series will know better than to place their money against Joe."--Kirkus Reviews
"Box has expertly woven together a tense action-filled story, a true page-turner, which incorporates greed, unrequited love, revenge and the worst of luck – luck that destroys lives and puts some favorite characters at ultimate risk." --Durango Herald