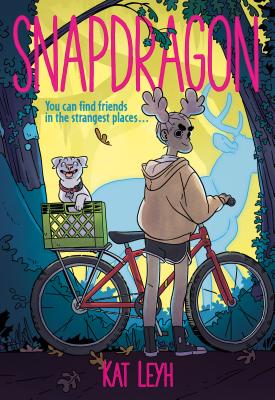 Snapdragon
Publication Date:
February 4th, 2020
Usually Ships in 1 to 5 Days
I could not have enjoyed this book more. It's a rare graphic novel that can capture the imagination of my 10-year-old daughter as well as myself. It's not just that the art is great or that the story is so unique. It's how many topics are addressed in such a small space: gender, death, rebirth, abuse, witchcraft, acceptance, love…most of all love. I can't wait until it's on our shelves.
Spring 2020 Kids Indie Next List
Description
Kat Leyh's Snapdragon is a magical realist graphic novel about a young girl who befriends her town's witch and discovers the strange magic within herself.
Snap's town had a witch.
At least, that's how the rumor goes. But in reality, Jacks is just a crocks-wearing, internet-savvy old lady who sells roadkill skeletons online—after doing a little ritual to put their spirits to rest. It's creepy, sure, but Snap thinks it's kind of cool, too.
They make a deal: Jacks will teach Snap how to take care of the baby opossums that Snap rescued, and Snap will help Jacks with her work. But as Snap starts to get to know Jacks, she realizes that Jacks may in fact have real magic—and a connection with Snap's family's past.
Praise for Snapdragon
A School Library Journal, Publishers Weekly, and Parents Magazine Best Book of 2020
"Epic." —Parents Magazine, from their 2020 Best Books for Teens list
"Snapdragon invigorates a classic hero's journey with magic and heart."—The AV Club
"Full of magic and humor, this intersectional, layered tale offers joyful and affirming depictions of social outsiders and comfortably complicated families." —Publisher's Weekly, Starred Review and a Publisher's Weekly Best of Book 2020

"Vibrant colors bring a lovable cast and more than a few spells to life." —School Library Journal, fron their Best Books of 2020 list
"This endearingly offbeat story emphasizes found community, the importance of love and friendship, and a fierce commitment to individuality—all powerful themes for middle-grade readers." —Booklist, starred review

"Sweet and fierce, this is a must-have." —Kirkus, Starred Review

"Leyh skillfully balances magic and realism...readers familiar with Leyh's work in the Lumberjanes series will recognize her bouncy, dynamic art and figures that are nearly always in motion, keeping the energy high and the tone lively."—The Bulletin of the Center for Children's Books
"Snapdragon is a unique and perfect story about a witch in the woods, girls who live in a trailer park, and the unexpected web of connections tying everyone together. It's a book about finding your power, in more ways than one. I laughed and cried, and you will, too!" —Molly Knox Ostertag, author of the Witch Boy series
"An absolute treasure. It's kind, vibrant, and alive, with characters you'll love immediately—I had to reread it right away, because I wasn't ready to say goodbye yet! An unforgettable story about loving ourselves, those around us, and the world we inhabit." —Gale Galligan, author of the Kristy's Big Day graphic novel
"Snapdragon is the shero for the girl in every reader, casting her magic and fire on every panel, every page. Volume 2, please!" —Rita Williams-Garcia, author of the Gaither Sisters series