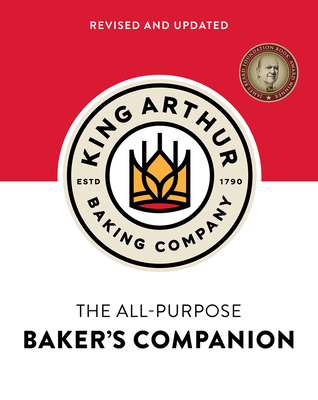 The King Arthur Baking Company's All-Purpose Baker's Companion (Revised and Updated)
Publication Date:
March 2nd, 2021
Publisher:
Countryman Press
Usually Ships in 1 to 5 Days
Description
Trusted recipes, revised and updated for a new generation of home bakers.
Comprehensive in scope, authoritative in style, and offering clear, practical, and encouraging instruction, The King Arthur Baking Company's All-Purpose Baker's Companion is the one book you'll turn to every time you bake. The experts from King Arthur lead home bakers through hundreds of easy and foolproof recipes from yeast breads and sourdoughs to cakes and cookies to quick breads and brownies. Winner of the 2004 Cookbook of the Year Award by the James Beard Foundation, this dependable cookbook has been reinvigorated with new photography, recipes, and revisions to keep it relevant to today's modern baker.
Decades of research in their famous test kitchen shaped the contents of this book which includes more than 350 recipes, a completely up-to-date overview of ingredients (including gluten-free options), substitutions and variations, and troubleshooting advice. Sidebars share baking secrets and provide clear step-by-step instructions. Techniques are further explained with easy-to-follow illustrations. Now fully revised and updated,The King Arthur Baking Company's All-Purpose Baker's Companion is an essential kitchen tool.
Praise for The King Arthur Baking Company's All-Purpose Baker's Companion (Revised and Updated)
The King Arthur Baking Company's cookbooks excel at blending art and science to teach a rock-solid understanding of baking ingredients and principles. Their latest book, the revised The King Arthur Baking Company All-Purpose Baker's Companion, reflects the team's expertise on ingredients and techniques.
— Jill Lightner - The Seattle Times
[T]ips and lessons are beautifully distilled throughout these fine-tuned recipes and extensive overviews covering the essential ingredients and techniques for whatever baking project you're contemplating.
— Susan Puckett - The Atlanta Journal-Constitution
The book is full of advice about the ins and outs of baking, from gathering ingredients and equipment to final assembly, and it explains, sometimes in great detail, how butter and flour and sugar and yeast all combine into glorious baked goods.
— The Takeout
Bang the Bundt pans and make a joyful clatter with the cake tins, The All-Purpose Baker's Companion is here. Hundreds of recipes, beautiful photographs, and clearly written instructions from the people we trust at King Arthur Baking Company. Whether you've been baking forever or are only just beginning, this is a book to keep within easy reach.
— Dorie Greenspan, author of Everyday Dorie and Dorie's Cookies
The All-Purpose Baker's Companion is what we have all come to expect from this beloved baking company: companionship and guidance and encouragement in our baking. Each recipe is more mouthwatering than the last; you can dive into this book with full confidence that your pastries will come out perfectly.
— Joanne Chang, author of Pastry Love
Time to get busy, bakers. Apple slab pie! Toaster corncakes! Banana bread French toast! The All-Purpose Baker's Companion is back and better than ever. From early morning muffins through post-dinner éclairs, this is the perfect guide for whenever creativity strikes. Sweet to savory, quick hits to show-stopping centerpieces, this Swiss Army–kitchen BFF walks you through the classics we all grew up with and the pastry-school staples chefs take years to master.
— Christina Tosi, founder and CEO of Milk Bar
Speaking with the folks at King Arthur Baking Company is like visiting with a neighbor—they listen, and they care.
— Chris Kimball, founder of Milk Street
King Arthur has always been a go-to source for all things baking, but in particular for solid explanations of baking science and reliable recipes that I turn to again and again. This book is packed to the brim with both: it offers everything a brand-new baker will need to get started but will also surely be on every seasoned baker's bookshelf—well-loved and flour-dusted—for years to come.
— Erin Jeanne McDowell, author of The Book on Pie
The All-Purpose Baker's Companion is not only a great technique and recipe collection, but it truly captures the spirit of a lively, ever-growing tribe: the home baker community. This book is their voice, expressed in written form, but equally alive.
— Peter Reinhart, author of The Bread Baker's Apprentice
In this updated version of the classic text, the bakers at King Arthur aim to help everyone become "a top-notch baker" by respecting tradition and embracing new concepts, such as gluten-free baking.
— Library Journal
You'll learn to bake breads, cakes, and cookies that are delicious and consistent each time—plus, you'll build a solid foundation of baking knowledge that can help you make foods beyond the ones included here.
— Mental Floss