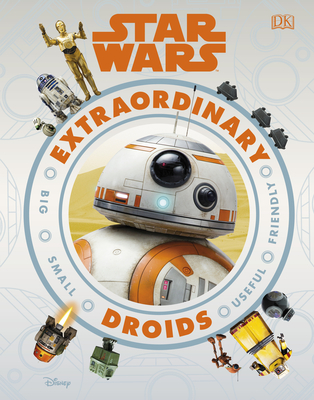 Star Wars Extraordinary Droids
Publication Date:
April 7th, 2020
Description
Find the droids you know and love and discover new favorites along the way.
This Star Wars guide with a twist showcases a world of droids in close-up detail. Arranged from smallest to biggest, more than 50 droids of the galaxy are revealed with stunning photography and gorgeous artwork. The evocative descriptions will delight children and let them discover amazing droid facts, such as what tools R2-D2 uses and why GNK droids make a "gonk gonk" noise! Each page features fun droid facts and detailed close-up photographs for children to pore over, including firm favorites such as C-3PO and BB-8 as well as more unusual ones such as Professor Huyang, police droids, tiny probe droids, and new The Rise of Skywalker droid D-O.

Star Wars Extraordinary Droids is a perfect gift for children who can't get enough of a galaxy far, far away. The book covers droids small (quiet, little mouse droids) and big (vulture droid starfighters), kind (memoir-writing PZ-4CO) and scary (droidekas), and will be a treasured favorite book to keep.
© & TM 2020 LUCASFILM LTD.
About the Author
Simon Beecroft is a New York Times–bestselling author of numerous books for young readers. His many books include Lego Star Wars: The Visual Dictionary, Watch Out for Jabba the Hutt (Star Wars: The Clone Wars, DK Readers), and Star Wars Character Encyclopedia.