Watch Dogs 2: Prima Collector's Edition Guide (Hardcover)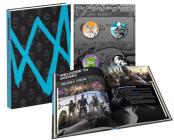 Description
---
The Watch Dogs 2 Collector's Edition Guide includes...

Only in this collector's Edition
A set of four Dedsec buttons. Like the ones Marcus wears in Watch Dogs 2.

Bring Down the System!

Mission Completion Guide: Every main mission and side mission covered in detail to ensure your success.

Local Area and World Maps: Research all of the locations within the open world and discover every collectible.

Hacking Training: Learn the tricks to distract guards, take over cars, and break into security systems to accomplish your goals.

Intel and Tools: Use your drones, robots, and hacking tools to bring corrupt individuals to their knees.

Free eGuide! Use the enhanced eGuide for strategy on the go, all optimized for a second-screen experience. Includes interactive world maps.
About the Author
---
Originally hailing from the United Kingdom, David Hodgson left his role as a writer of numerous British video game magazines (including Mean Machines, Computer & Video Games, and the Official Nintendo and Sega Saturn magazines) and a bohemian lifestyle on a dry-docked German fishing trawler to work on the infamous GameFan magazine in 1996. David helped to launch the fledgling GameFan Books and helped form Gamers' Republic in 1998, authoring many strategy guides for Millennium Publications, including The Official Metal Gear Solid Mission Handbook. After launching the wildly unsuccessful Incite Video Gaming and Gamers.com, David found his calling, and began authoring guides for Prima Games. He has written more than 30 Prima strategy guides, including The Godfather: The Game, Knights of the Old Republic, Perfect Dark Zero, Half-Life 2, and Burnout Revenge. He lives in the Pacific Northwest with his wife, Melanie, and an eight-foot statue of the great Cthulhu.

Michael Knight has worked in the computer/video game industry since 1994 and has been an author with Prima Games for more than 10 years, writing over 60 guides during this time. Michael has used both his degree in military history and experience as a high school teacher to formulate and devise effective strategies and tactics for hit titles such as the Tom Clancy's Rainbow Six and Hitman series. He has also authored several titles in the Star Wars universe, including Star Wars: Republic Commando, Star Wars Episode III: Revenge of the Sith, Star Wars: Battlefront II, and Star Wars: Empire at War. Michael has also developed scenarios/missions and written game manuals for SSI, Red Storm Entertainment, and Novalogic.When he is not busy at work on an upcoming strategy guide, Michael likes to spend time with his wife and four children. It was with their help that Michael used his abilities and experience to write three travel/strategy guides on Disneyland and Southern California, in which he developed tips and hints to help vacationing families save time and money while maximizing their fun.