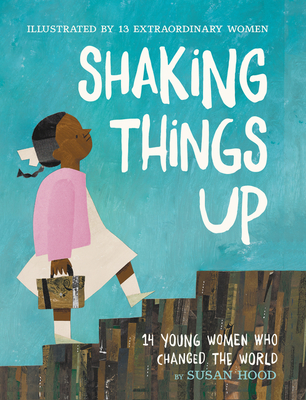 Shaking Things Up: 14 Young Women Who Changed the World
Publication Date:
January 4th, 2022
Usually Ships in 1 to 5 Days
Description
"Each poem and illustration shines with a personality all its own." —Shelf Awareness (starred review)
"This book has definitely made an impact on my life." —Kitt Shapiro, daughter of Eartha Kitt
Fresh, accessible, and inspiring, Shaking Things Up introduces fourteen revolutionary young women—each paired with a noteworthy female artist—to the next generation of activists, trailblazers, and rabble-rousers.
From the award-winning author of Ada's Violin and Lifeboat 12, Susan Hood, this is a poetic and visual celebration of persistent women throughout history.
In this book of poems, you will find Mary Anning, who was just thirteen when she unearthed a prehistoric fossil. You'll meet Ruby Bridges, the brave six-year-old who helped end segregation in the South. And Maya Lin, who at twenty-one won a competition to create a war memorial, and then had to appear before Congress to defend her right to create.
And those are just a few of the young women included in this book. Readers will also hear about Molly Williams, Annette Kellerman, Nellie Bly, Pura Belpré, Frida Kahlo, Jacqueline and Eileen Nearne, Frances Moore Lappé, Mae Jemison, Angela Zhang, and Malala Yousafzai—all whose stories will enthrall and inspire. This poetry collection was written, illustrated, edited, and designed by women and includes an author's note, a timeline, and additional resources.
With artwork by award-winning and bestselling artists including Selina Alko, Sophie Blackall, Lisa Brown, Hadley Hooper, Emily Winfield Martin, Oge Mora, Julie Morstad, Sara Palacios, LeUyen Pham, Erin Robinson, Isabel Roxas, Shadra Strickland, and Melissa Sweet.
A 2019 Bank Street Best Book of the Year 
Named to the 2019 Texas Topaz Nonfiction Reading List
Selected for CCBC Choices Book 2019
Selected as a Notable Social Studies Trade Books for Young People 2019
Named to the Cuyahoga County Public Library's 2018 list of Great Books for Kids
2020-2021 South Carolina Picture Book Award Nominee
Praise for Shaking Things Up: 14 Young Women Who Changed the World
"Each poem and illustration…shines with a personality all its own" — Shelf Awareness (starred review)
"Encouraging profiles of astronauts, artists, and activists both honor past accomplishments and point toward ways young readers themselves might change the world, too." — Publishers Weekly
"The different artistic styles and the variety of poetry are sure to keep readers' interest." — Booklist
"An additional purchase for elementary history and poetry collections." — School Library Journal
"[T]his book has definitely made an impact on my life" — Kitt Shapiro, daughter of Eartha Kitt
From my mermaid queen, Annette Kellerman, to spies and activists and astronauts, this book is a beautiful live wire! — Emily Winfield Martin, author-illustrator of the New York Times bestseller The Wonderful Things You Will Be
Your spirit will be lifted and your heart will be full after reading Shaking Things Up... This blend of poetry and stunning artwork should be a part of every professional and personal collection."  — Margie Myers-Culver / Librarian's Quest blog (10.5K Twitter followers)
Shaking Things Up is the ultimate girl power picture book of 2018! It's written, illustrated, and edited by all women! — Here Wee Read blog (41.9K Instagram followers)
We're in a golden age of books about strong women for children, and what I love about this one is that each biography (written in poems begging to be read out loud) focuses on women who achieved great things as girls and young women. The combination of spare text and gorgeous, varied illustrations...makes this a stunning and friendly introduction to amazing women. — The Curious Reader bookstore (13K Instagram followers)
If there were ever a book that truly epitomized the concept of female empowerment and celebration, it's Shaking Things Up: 14 Young Women Who Changed the World. — Let's Talk Picture Books blog (6K Instagram followers)
The book is truly incredible. It is a must-read must-have, must-revisit kind of book. It is perfection! — Franki Sibberson, 5th grade teacher. President-Elect of NCTE (19K Twitter followers)
Hood highlights female activists in an impressive array of fields - firefighting...paleontology...librarianship...journalism...undercover operatives...architecture...and much more...Each poem and illustration is followed be a brief bio of each woman and the book closes with a list of sources and information for further reading. — Julie Danielson, Kirkus Reviews, 7-Imp, a children's literature blog focusing on illustration and picture books
'I chose to write this book...to celebrate the world I want for my daughters, my new granddaughter, and the young girls and boys out there,' Hood writes in an author's note. If could give her a fist bump for including "and boys" there, I would. And that's because boys need to see these stories of powerful women just as much as girls do. — Julie Danielson, Kirkus Reviews, 7-Imp, a children's literature blog focusing on illustration and picture books